About Us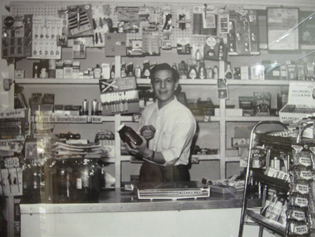 Bova Foods is one of the leading food service distributors in the tri-state area, but that wasn't always the case. In fact, Bova Foods came from humble beginnings, and is perfect example of one man pursuing the true American dream.
That man, Antonio Bova, arrived as an immigrant from the small town of Maida in Calabria, Italy in 1963 and opened a corner grocery store in Ambler, PA. Like many immigrants who arrived in America, his family values and strong work ethic were deeply rooted in him. It was this work ethic, coupled with his determination, dedication and desire to succeed, that has become ingrained in the very way in which Bova Foods conducts business, over 50 years later, and is a major reason why we have become one of the leading food service distributors in the region.
From the very beginnings of Bova Foods, Antonio Bova saw an opportunity to bring his customers in America the authentic Italian foods he loved. This simple idea eventually led him to expand his business to serve the local area pizzerias and restaurants. Continuing his vision today, Bova is proud to be a second generation, family owned and operated business.
BOVA Foods is also proud to announce the launch of Maria Mia Premium Cheese. Bova  made a substantial investment in a state of the art, in-line cheese shredder and bagging technology in order to create incredibly convenient pouches that preserve freshness and can be filled with custom cheese blends as unique as the pizza makers we serve. Our new, custom shredded, Maria Mia Premium Cheeses give pizzeria owners a new level of control over their signature recipes, reduce labor costs in the kitchen, increase worker safety, and limit product waste.
In addition to fine imported Italian specialties, Bova Foods also offers a full line of products to pizzerias and Italian restaurants. We have nationally known brands, as well as a complete line of our own top quality, private labeled items. From pasta, tomatoes and premium cheeses to poultry and produce – we have everything you are looking for and we are continuously expanding our inventory to meet the growing demands of our customers. We also have a huge selection of small wares and commercial kitchen equipment.
Bova Foods is also the leader in supplying custom pizza packaging products. At BOVA Foods, we can design custom-made pizza boxes for your restaurant so you can make the most out of this advertising opportunity. We supply our customers with the highest quality custom Pizza Boxes and we offer custom design services to help our customers have a custom printed box .
Bova Foods is your one-stop source for all of your food service needs. With over 50 years of experience, our mission has always been to supply the finest products at a competitive price, with professional top quality service. As a family owned business, Bova has an advantage over the larger competitors, offering the best personalized customer service. It is our goal to make our customers and suppliers feel like part of the family.